EZZY Panther Limited 2012 - A MASTER PIECE IN YOUR HANDS!!!!!!!!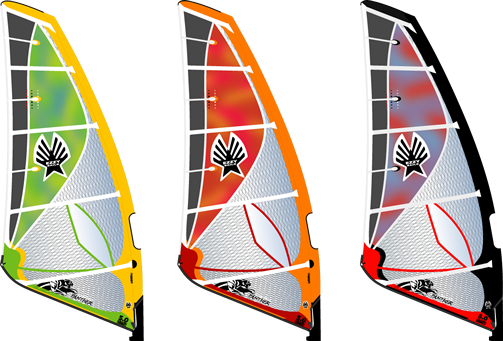 Click on sail image for zoom view
Each Sail Color Choice Is Unique!

http://www.ezzy.com/sails/2012-sails/panther-limited/

Panther Limited Rigging Guide (pdf)
http://www.ezzy.com/allyearsezzys/2012/ ... igging.pdf

Panther Limited Catalog (pdf)
http://www.ezzy.com/allyearsezzys/2012/ ... atalog.pdf



Every Panther Limited is rigged and fine tuned in our factory before shipping.

At Ezzy we offer unmatched customer service.
Email us at (info@ezzy.com) and you will get a personal response within 12 hours.
Introducing the Panther Limited series. Our new color fusion process makes every sail uniquely beautiful.
The "Panther Limited" is the lightest and most advanced sail David Ezzy has ever built.
Performance Highlights:

More power.
200 grams lighter.
Even easier handling.
Increased wind range.
Better balance and stability.
New designer sailcloth called "Color Fusion Tri-Lite" that makes every sail unique. No two sails are exactly the same…but each is gorgeous.
New head profile gives unparalleled control, even when grossly overpowered.
New innovative tack strap ruler, for insuring pinpoint accuracy for base extension settings.

The Panther Limited is built with our legendary quality and high-tech materials like Technora, Spectra X-film, Color Fusion X-Ply, and our removable stainless steel tack pulley.




ACTION VIDEO:
http://vimeo.com/29671026

http://www.ezzy.com/sails/2012-sails/panther-limited/

http://windswaveswarehouse.blogspot.com ... -pice.html

http://windswaveswarehouse.blogspot.com ... -2012.html


PRICE LIST:
2,9 € 600,00
3,3 € 610,00
3,5 € 620,00
3,7 € 625,00
4,0 € 630,00
4,2 € 635,00
4,5 € 645,00
4,7 € 650,00
5,0 € 655,00
5,2 € 665,00
5,5 € 675,00
5,8 € 685,00
6,0 € 690,00
6,3 € 705,00
6,9 € 710,00
ΤΑ 'Panther Limited' ΕΙΝΑΙ ΔΙΑΘΕΣΙΜΑ ΜΟΝΟ ΚΑΤΟΠΙΝ ΠΑΡΑΓΓΕΛΙΑΣ

VIDEO:
http://video.mpora.com/watch/HNfw3EfLf/

http://windswaveswarehouse.blogspot.com ... yn-ei.html





Wave Panther LTD Luff Luff Boom Boom Suggested Mast Suggested Mast Ezzy Mast No. of
Size (sq.m.) min max min max 1st Choice 2nd. Choice Base/Top Battens
2.9 317 318 127 131 340/28/15 370/27/17 340 / 340 5
3.3 339 340 137 141 340/28/15 370/27/17 340 / 340 5
3.5 353 354 1`42 146 340/28/15 370/27/17 340 / 340 5
3.7 364 365 147 151 370/27/17 340/28/15 340 / 370 5
4.0 372 373 150 154 370/27/17 400/25/19 370 / 370 5
4.2 382 383 154 158 370/27/17 400/25/19 370 / 370 5
4.5 393 394 157 161 370/27/17 400/25/19 370 / 400 5
4.7 406 407 161 165 400/25/19 430/25/21 400 / 400 5
5.0 418 419 166 170 400/25/19 430/25/21 400 / 400 5
5.2 425 427 169 174 400/25/19 430/25/21 400 / 430 5
5.5 435 437 172 177 430/25/21 460/25/25 400 / 430 5
5.8 443 445 176 181 430/25/21 460/25/25 430 / 430 5
6.0 451 453 179 184 430/25/21 460/25/25 430 / 430 5
6.3 456 458 185 190 430/25/21 460/25/25 430 / 430 5
6.9 485 487 187 192 460/25/25 - 460 / 460 5


Andrea De Cesaris ripping on the new Wave Panther Limited on Oahu:
http://www.ezzy.com/latest-news/andrea- ... d-on-oahu/